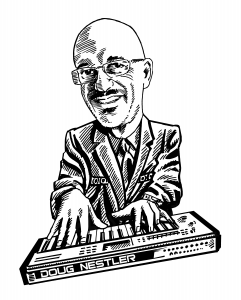 I got my Hammond Organ and Leslie speaker cabinet at age 16 and made my way to the Jersey Shore bar scene in the early 80s for a couple of crazy summers. By fall I was broke and still living in my parent's house so I decided to get a real job.
I talked my way into a retail sales job and then graduated to my first vendor role with Ensoniq. I spent the next 10 years traveling the Mid-Atlantic states, selling gear and doing clinics for music retailers before I moved on to key account management and national sales with brands like Marshall, Korg and Vox. My roles ran the gamut from District Sales Manager to VP of Sales & Marketing, I've learned our trade from bottom to top.
Most recently I've become fluent in ecommerce at one of the nation's top internet retailers, directing sales and implementing digital marketing strategies. The result of all these years is deep music industry experience at nearly every level of sales, marketing and distribution management.
I hope you'll enjoy these blog posts and consider reaching out to continue the conversation.  After all, music is more fun when we collaborate, right?
BTW: I still play classic rock with bands whenever I can.​